Theo tin prweb.com
Mercy Medical Center has been ranked as one of the top 500 midsize employers (1,000-5,000 employees) in the United States for 2018 by Forbes magazine
BALTIMORE (PRWEB) MAY 04, 2018
Mercy Medical Center has been ranked as one of the top 500 midsize employers (1,000-5,000 employees) in the United States for 2018 by Forbes magazine, a leading national business publication, the second consecutive year Mercy has been so honored. Mercy is the only health care organization in Maryland to make the midsize list this year, and only one of two Baltimore-area medical facilities named among both large (over 5,000 employees) and midsize employers.
Forbes partnered with market research company Statista to identify the companies liked best by employees. Statista surveyed 30,000 Americans working for businesses with at least 1,000 employees. All the surveys were anonymous, allowing participants to openly share their opinions. The respondents were asked to rate, on a scale of zero to 10, how likely they'd be to recommend their employer to others. Statista then asked respondents to nominate organizations in industries outside their own. The final list ranks the 500 large (over 5,000 employees) and 500 midsize employers that received the most recommendations. Mercy was ranked at #299 nationally among midsize employers.
According to Thomas R. Mullen, President and CEO, Mercy Health Services, Mercy Medical Center, the Forbes ranking is the latest in a number of honors the 143-year-old Catholic hospital continues to receive, including U.S. News and World Report's "Top Hospitals" recognition, the Women's Choice Award as one of America's 100 best hospitals for patient experience, and earlier this month, the 2018 AONE (American Organization of Nurse Executives) Prism Award for advancing diversity efforts within the nursing profession, community or organization.
"We are extremely pleased to receive this recognition from nationally acclaimed Forbes magazine for the second straight year. It's especially gratifying as it reflects the input of our employees, people who embrace Mercy's mission every day," Mr. Mullen said. "At Mercy, we strive to empower our employees, to offer them opportunities to grow and learn new skills. Engaged employees are best suited to provide exceptional care to patients, in keeping with the values of the Sisters of Mercy."
Founded in 1874 by the Sisters of Mercy, Mercy Medical Center is a university-affiliated medical institution with a national reputation for women's health care. In addition to the Forbes' announcement, Mercy's has also been recognized as a "Best Place to Work" by Becker's Hospital Review in 2013 and by Baltimore Magazine in 2012.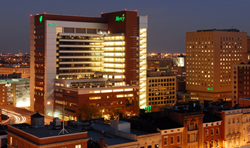 http://www.prweb.com/releases/2018/05/prweb15460378.htm